huanrui test - changes in business information
17-06-2021
Thanks for the support and trust of all of our customers and friends, so our huanrui test could continue to strengthen and expand .

Due to business needs, our company successfully changed the industrial and commercial information of the company on June 4, 2021, from the original (Dongguan Huangrui Environmental Testing Equipment Co., Ltd.) to (Guangdong Huangrui Testing Equipment Co., Ltd.), and the registered capital was increased from the original 5 million to 10.07 million, as well as the increase of related businesses.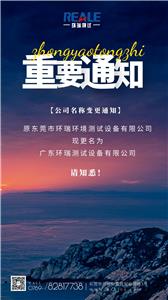 Huanrui testing has always been operating in good faith, quality first, the pursuit of innovation, cooperation and win-win business philosophy of steady development, we believe that under the leadership of CEO Tian, Huanrui testing will be more brilliant in the future.