Rain Spraying Testing Machine
REALE

CHINA

15 days after deposit

30 sets one month
Huanrui is a professional manufacturer of simulated environmental testing equipment integrating R&D, design, production and sales.Rain Spraying Testing Chamber is the main advantage products of Huanrui.
The testing equipments of Huanrui are exported to more than 20 countries abroad.In 2018, Huanrui established a service office in Vietnam to provide better services to customers in Southeast Asia.
Rain spraying testing machine
Rain spraying testing machine is suitable for the testing of external lighting and signaling devices and automotive lamps. Rain spraying testing machine can provide a realistic simulation of the environment such as water and spray that electronic products and their components may be exposed to during transportation and use. In order to achieve the detection of water resistance of various products.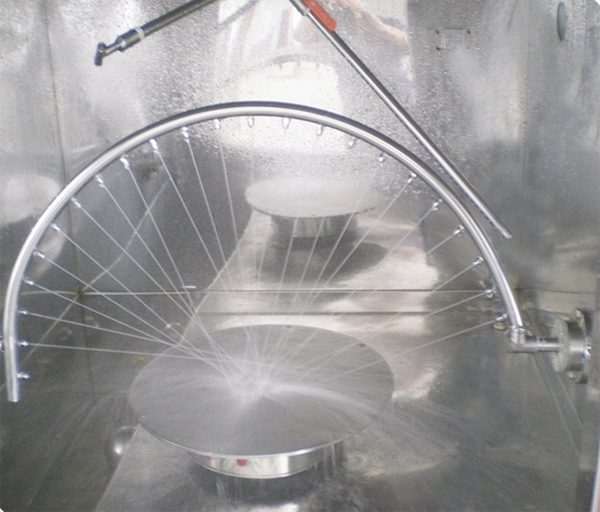 Feature of Rain spraying testing machine
The casing material is made of high-quality stainless steel plate, and the inner material is made of stainless steel.

Large-area visible glass door for easy observation of the test sample in the test chamber.

Using the world famous brand inverter to control the speed, effectively ensure that the test meets the standard operation.

The bottom of the test box is made of high-quality fixed PU movable wheel, which is convenient for users to move.

270 degree swing tube and 360 degree rotary rod water spray device.

Adjustable speed sample stage.
Reference model
Model

RAI-800

RAI-1000

Inner Size(cm)
(W x D x H)

800*800*800

1000*1000*1000

Outer Size(cm)

(W x D x H)

1080*1180*1540

1200*1380*1760

Weight(kg)

250kg

300kg

Temp.Range

RT-100℃

Diameter of spray hole

Ø 0.4mm

Distance between nozzles

50mm

Number of injectors

25

Spray ring radius

400mm

Diameter of nozzle tube

Ø16mm

Rotation nozzle

0 ° ~ 180 °

Speed of rotation

0 ~ 20 times

Required supply water pressure

80Kpa - 100 Kpa

Material of spray pipe

SUS 304

Water temperature

15℃-30℃

Control mode

Set parameters on the digital display

View window

Made of tempered glass (310 × 420mm) and with LED lights

Control system

Equipped water protection